WEAN (Women Entrepreneurs Association of Nepal)

---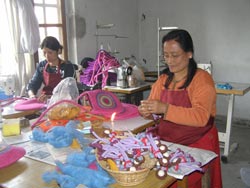 Created in 1989, WEAN is a non-profit organisation that focuses on marketing the products of women artisans in order to build a countrywide co-operative for joint promotional entrepreneurial activities.
WEAN aims to represent the collective efforts of women entrepreneurs in the economic progress of the nation and decision making at national and international levels.
Felt making is a traditional craft in Nepal which requires great skill and this vibrant range includes both kids and ladies bags.