Total raised so far (to end September 2023): £28,013
Fair Trade, Eco, Recycled and Ethical Gifts
Fashion, Home & Garden, Cards & Stationery, Fragrance, Lifestyle
Shared Earth is a leading retailer of ethical products. We carry the widest selection of sustainable and recycled products in the UK, sourced from countries all around the globe. We would love you to join us in our mission to tackle the climate crisis and create a fairer, more sustainable world.
---
Featured Ranges
---
Some of Our New Products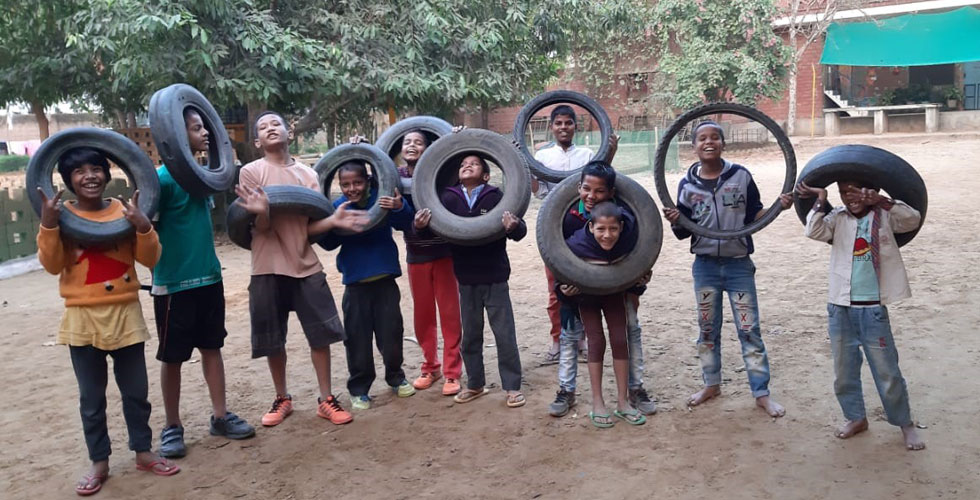 Stop that waste! Old tyres? Fantastic! They'll provide a load of fun. These kids are from Karm Marg, one of our suppliers in India. It's a home for street children, whose aim is to make them self-reliant in life. It's funded by upcycling paper, textiles and other scraps into bags and other products, and (like the children, who've all had a pretty tough time earlier on in their lives), giving them a second chance.
Many of our products are bought from suppliers who are members of the World Fair Trade Organization (WFTO), or who have been recommended by other WFTO members. Many have been set up as non-profit organisations to enable small-scale producer groups to export effectively, and to help them develop products for larger markets like the UK. Most producers are organised in family groups or co-operatives, often in rural areas or small towns, are highly skilled in their craft but have little experience of selling beyond a local market.
Product Ethics
Not all our products are Fair Trade; some we buy because of their eco credentials. Others we describe as 'ethical' because whilst the supplier has not reached the high standards of Fair Trade, we are happy that they trade in an ethical manner where staff are treated fairly, the workplace is safe and there is no exploitation of women and children.