Sasha Exports

---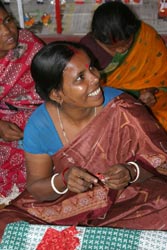 Sasha Exports was founded in 1978. The organisation is committed to fair trade; fair wages, equal opportunity and human rights.
It is a nonprofit marketing outlet for many small member cooperatives of Sasha Association for Craft Producers. Sasha offers design services, and training in business skills development and other management principles.
The wide range of crafts offered by Sasha draws on tradition, retaining cultural context, yet making products contemporary for present-day living.
Sasha works to maintain a wide variety of handicraft traditions.
WFTO - Guaranteed Fair Trade member