Noah's Ark, India

---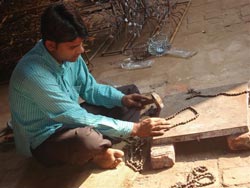 Noah's Ark is a fair trade handicraft marketing organisation created in 1986 and based in the city of Moradabad.
Most of the artisans are women, who benefit from the fact that they can work from home and maintain their responsibilities for children and the home.
Noah's Ark provides benefits such as education and medical treatment for artisans and their families.
Noah's Ark was founded before the concept of Fair Trade existed in Moradabad and their objective was to eliminate exporters taking advantage of artisans and their crafts. They provide regular employment to 300 people, run evening schools for children in remote villages and help artisans to build and establish their own workshops.
WFTO - Guaranteed Fair Trade member