Mahaguthi, Nepal

---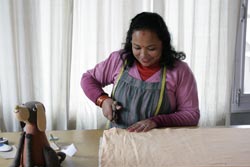 Mahaguthi produces, exports and markets crafts from Nepal. Over a thousand individual producers are supported, many of whom are from remote and mountainous areas.
Forty percent of their generated income provides women and children of the Tulsi Mehar Mahila Ashram with food, shelter, clothing, healthcare and education.
The centre (Ashram) was founded by the late Tulsi Mehar Mahila, who implemented many programmes for the empowerment of women in Nepalese society.
Originally Mahaguthi produced and sold only Khadi cloth. Now they produce a wide range of handicrafts.
WFTO - Guaranteed Fair Trade member