Gopalas, India

---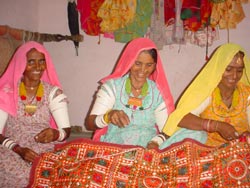 Gopalas creates beautiful traditional embroidery, patchwork and other Indian textiles.
Gopalas was established in Jaipur over 20 years ago and is a family run business. Two brothers and their sons are the cogs of the initiative.
It aims to work as a platform for Indian artists and uneducated craftspeople who are in the need of work.
The patchworked textiles have been a staple product of Shared Earth's for about 10 years now. The patchworking is mainly done by Gujerati women and continuing the patchworking tradition enables them to provide an important supplement to their family income. Many of the women are from families who have migrated to India after finding it difficult to make a living in their homeland.
Men are very skilled at sewing too, and tend to do the machine stitching to back and edge the pieces. Hundreds of velvet and fabric pieces are sewn together to make each one.
WFTO's auditor carried out a full audit of Gopalas against the 10 Fair Trade Principles, on behalf of Oxfam Australia, in July 2016.