A Fair, Sustainable World
---
On 23 December Shared Earth's founder Jeremy Piercy will be 70, yes, 70.
To mark this memorable event, we are asking 70 people to join us to raise £70,000 to help create a fairer, more sustainable world.
How on

are we going to do this?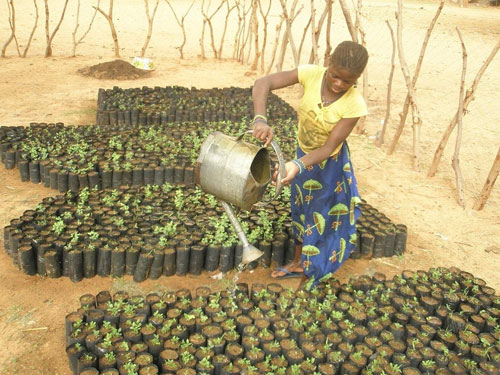 We're going to plant trees, reclaim the desert and improve the lives of rural villagers in Mali, West Africa.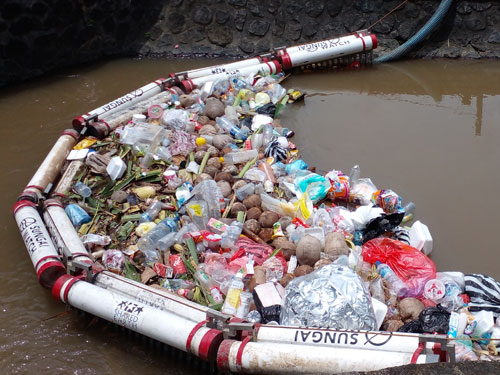 We're going to build river barriers to stop plastic flowing into the oceans in Bali.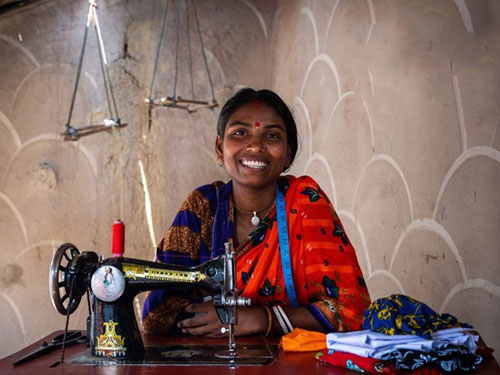 We're going to work with disadvantaged artisans around the world to develop their skills.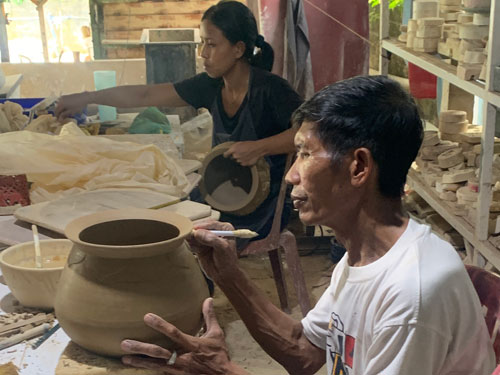 We're going to buy land and build a showroom in Bali, to attract buyers for local struggling producer groups.
To donate, please click on the button below:

Will you be one of us? Read on
We can't create it on our own. All of us, individuals, businesses, organisations and governments, have to work together on this. To fulfil our aims, these are the organisations we will be working with:
PLANTING TREES, RECLAIMING DESERTS

Mali is one of the poorest countries in the world, and also one of the worst affected by climate change. For years, the Sahara desert has been encroaching into its agricultural land, making once fertile land no longer viable to live on. Flash floods, a shorter rainy season and soaring temperatures have forced thousands of villagers to leave their homes and migrate south.
Joliba Trust
works on grassroots projects in 350 villages in Mali, stabilising sand dunes to recover land, planting trees, improving crop yields, promoting pasture regeneration and even recovering desert where nothing will grow. Trees grow far faster than in Europe, and many provide fruits, leaves, nuts and branches which can be used for food, cattle fodder and income generation.
Joliba achieves a huge amount at very low cost. It has just one low-paid worker in the UK, most of its work being done by local people in Mali. Admin costs are minimal. And for a donation of £10/month, a whopping 1,300 trees can be planted in Mali, ten times as many as this sum could buy in the UK!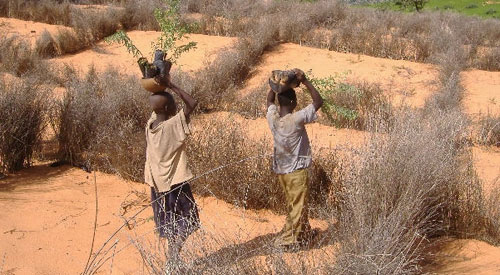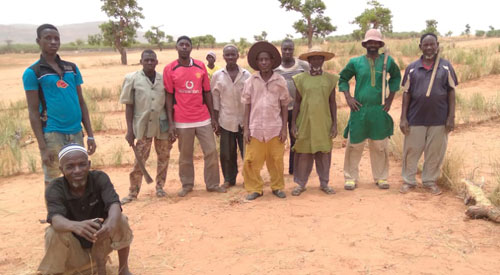 STOPPING PLASTIC FLOWING INTO THE OCEANS
Sungai Watch is a new charity in Bali, which builds river barriers to prevent plastic flowing into the oceans, South-east Asia being a 'hotspot' for this problem. Global corporations wrap more and more
products in single-use plastic, and even in towns and cities, waste collection services are often non-existent or minimal. Waste is often burnt, or ends up in the streams and rivers.
Sungai Watch has built 180 barriers in Bali, collecting over 1 million kg of plastic in just 2 years. It also runs community clean-ups each week at illegal dumps, beaches and along riverbanks. Everything is recycled, or composted.
Detailed records are kept of each plastic wrapper or bottle collected, and the charity then writes to the com-
panies whose brands appear most often, pushing them to find less harmful alternatives.
A donation of £300/month will pay for a barrier on a new river, potentially collecting 5,000kg of plastic in its
first year alone.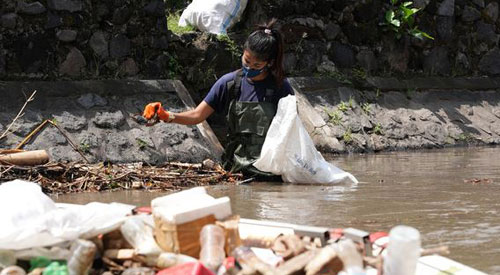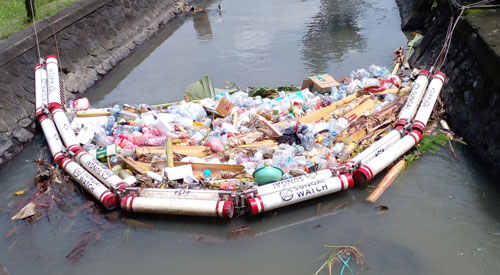 SUPPORTING DISADVANTAGED PRODUCERS
Transform Trade
is the new name for Traidcraft Exchange. It partners with farmers, workers and ar- tisans to help them benefit from more sustainable and equitable trade. Traidcraft plc went into receivership early in 2023 and Transform Trade has set up a Producers' Fund to support the most marginalised artisans, including those affected by loss of orders as a result of Traidcraft's sad demise.
These include for instance Prokritee in Bangladesh, which supports 1,500 artisans in rural areas, using sus- tainable materials such as palm leaf, rice straw and recycled sari; and Meru Herbs in Kenya, whose largest buyer was Traidcraft.
Whether it's training, equipment, product development or market access, Transform Trade, which has local offices in India, Bangladesh, Tanzania and Kenya, can work on the ground to support the smallest producer groups who need help most.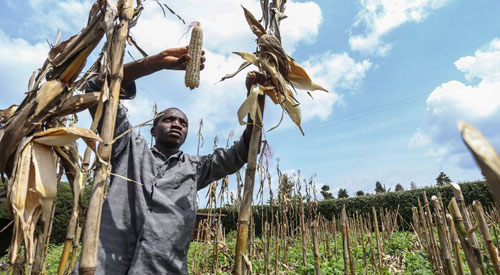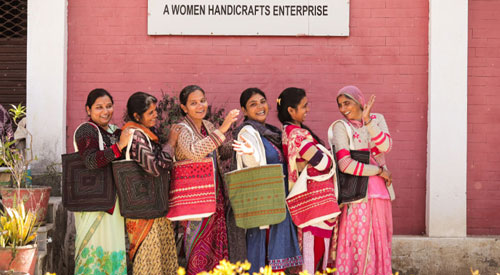 Sjahlendra Handicrafts
is a new Fair Trade/eco business in Bali, part-owned by producers, which aims to provide security to artisans and their families, who are struggling to survive in the absence of regular orders for their products. They use local, sustainable raw materials such as bamboo and albesia wood; coconut, tree roots and driftwood; and recycled glass, paper and textiles. Minimal machinery and energy usage means you can't get much better in terms of carbon emissions.
The women are in charge… They own and run 65% of the 30-odd producer groups, with 15% run by hus- band/wife teams and 20% by men. The CEO of Sjahlendra Handicrafts is also a woman.
At present the artisans rely on Shared Earth for their orders. We're going to build a showroom in Ubud, Bali's craft centre, to attract commercial buyers: a one-stop shop for eco and Fair Trade products, including, we hope, a café and rooms at the back for visitors. Any profits will be used to further the interests of the producers.
A donation of £100/month would buy the space for a producer group of 6 or 7 artisans to display their prod- ucts, equivalent to a year's worth of orders for an artisan and their family. We estimate we need £40,000 to get this project off the ground, potentially giving extra work for 1,000 artisans and their families, for many years to come!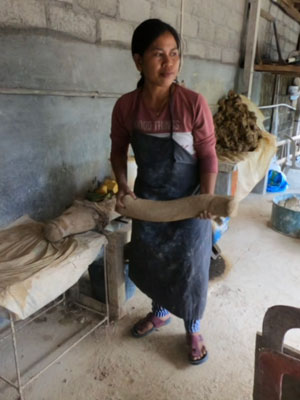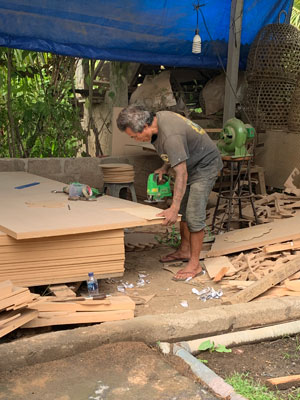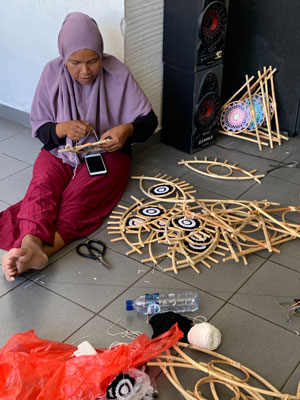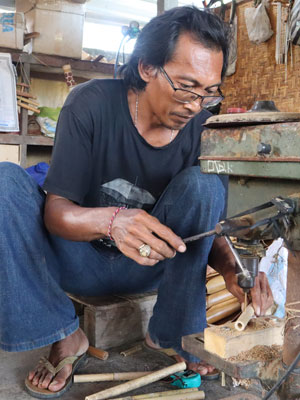 ---
To donate, please click on the button below:

Please join us, to help create a fairer, more sustainable world!
To make for a better world, let's all try to play our part! It's a law of the universe that you always get back what you give to others, whether it's money, time, care, thought or prayer. So we ask you to give generously; you will be rewarded!
We've got off to a great start with this fundraising campaign! Commitments so far have been:
March £480
April £5,940 (£5,040 from Shared Earth UK)
May £1,935
June £8,600
July £1,270
August £3,775
September £6,013
TOTAL £28,013
We're well on our way! Thank you to everyone who's pledged their support, and to everyone who is thinking of doing so!
To donate, please click on the button below:

To encourage you further:
Every donation of between £50/month or less will be DOUBLED (up to a total of £20,000)
Every donor of £10/month or more will be entered into a free draw, and the winner will receive a fully-paid for trip to Bali, with the chance to visit producers, see Sungai Watch's river barriers and of course, have a great time!
donate per month – every offer will be appreciated!
Tell your friends and families about us, spread the word and help make this a monumental fund-raising event!
You can also write to us at: Shared Earth, 1 Minster Gates, York YO1 7HL, email
jp@sharedearth.co.uk
, or phone us on 01904 655314