EMA (Equitable Marketing Association), India

---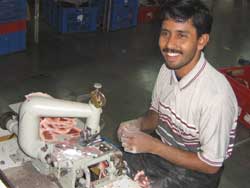 EMA was formed in 1977. EMA's nonprofit marketing objective is to help economically disadvantaged groups involved in the production of handcrafts to earn their own living in a fair and equitable way.
While EMA itself is entirely export-oriented, its field workers help groups to establish their own market contacts within India.
EMA works with approximately 2500 producers and has around 136 employees. As a fair trading organisation, EMA is completely involved in the improvement of the lives of the producers and the community by for instance distributing books to students and giving grants to students of the local area.
WFTO - Guaranteed Fair Trade member