Craftworks, Cambodia

---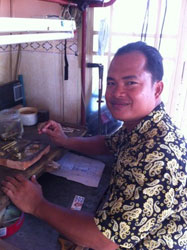 Craftworks Cambodia is an organisation working to provide vocational training and marketing skills to home-based producers through the sale of contemporary arts and crafts items.
Craftworks Cambodia maintains, and practices, a strong commitment to environmental awareness with many of the products being made from recycled and sustainable materials.
International and local markets are established for Craftworks Cambodia products providing equitable wages, a life of dignity, education for children and future stability for families and communities in the Kingdom of Cambodia.