Bezalila

---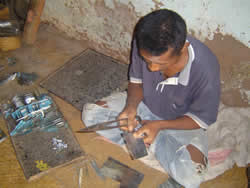 In 1986 during a visit by S.E.L., a French development organisation, to their aid programs, a group of women presented exhibitions of some Malagasy handcrafts. S.E.L. was impressed by the work of the women and they sent a craft representative to set up an export structure, so they could purchase and sell their handicrafts in France.
During the next few years, Artisanat SEL (as S.E.L.'s craft division became known) assisted these disparate workshops to form a cooperative structure, which became Bezalila in 1994. Now independent, Bezalila has 18 workshops, providing Fair Trade employment to formerly impoverished artisans in crafts such as weaving, woodwork, bone carving, and modelling recycled tin cans, called "Kapoaka" in Madagascar.
Bezalila provides SHARED EARTH with its range of models of old Citroen 2CV cars (the French equivalent of the VW) and other vehicles out of recycled drink cans.